Big Serve Weekend is coming up! Help us Love NB!
Date: Saturday, October 14, 2023 9:00 a.m.
We've picked two projects for us as a church:
Boxing and stocking with our partners at New Braunfels Food Bank: Location: 1620 S Seguin Ave
Make a mastectomy pillow with Pink Warrior Advocates! Location: 801 W. San Antonio Street (Springs Community Church). More info: [email protected].
To see the complete list of projects visit: https://servespot.loveourcities.org/Projects/Event/2.
Comal County Multi-Agency Resource Center [Click to donate or find out more]
People who are in need (food, rent, mortgage and/or utility assistance/ and mental health services) can find more information at: http://www.comalcountycares.com/ (donations can be made through that link as well). For more information call (830) 606-9512
Nazarene Compassionate Ministries
Few have remained untouched by the COVID-19 pandemic. In places where people live day to day or week to week, the measures necessary for preventing the virus's spread are devastating. A growing number of people are finding themselves in sudden and great need. Those who are hungry, isolated, and sick need your help. NCM is supporting churches around the world as they respond to COVID-19. Click here to Learn More and Give Now.
Noah's Farm is a 501c3 Non-Profit. 100% of your tax deductible gifts go to Africa as there are no administrative costs. The Mission of Noah's Farm: F – Feeding the Hungry | A – Advocating For Education | R – Reaching the Lost | M – Medical Missions
This year Noah's FARM has once again been asked to provide our wounded warriors at Ft. Sam and our disabled veterans in the greater San Antonio area with 200 deep-fried turkeys for Thanksgiving.
Plus, we will sell an additional 900 deep-fried turkeys to anyone in a fundraiser starting November 1st until sold out for our 16th water well in Zimbabwe, Africa. Order Form
Please click on the link below and fill out this form if you can be of help to pick up, clean, marinate, cook or wrap these deep-fried turkeys. Choose your date and time.
Be sure to select Saturday 11/18 and Thursday 11/23 when signing up. Sign up HERE
Love NB Holiday Giving Initiatives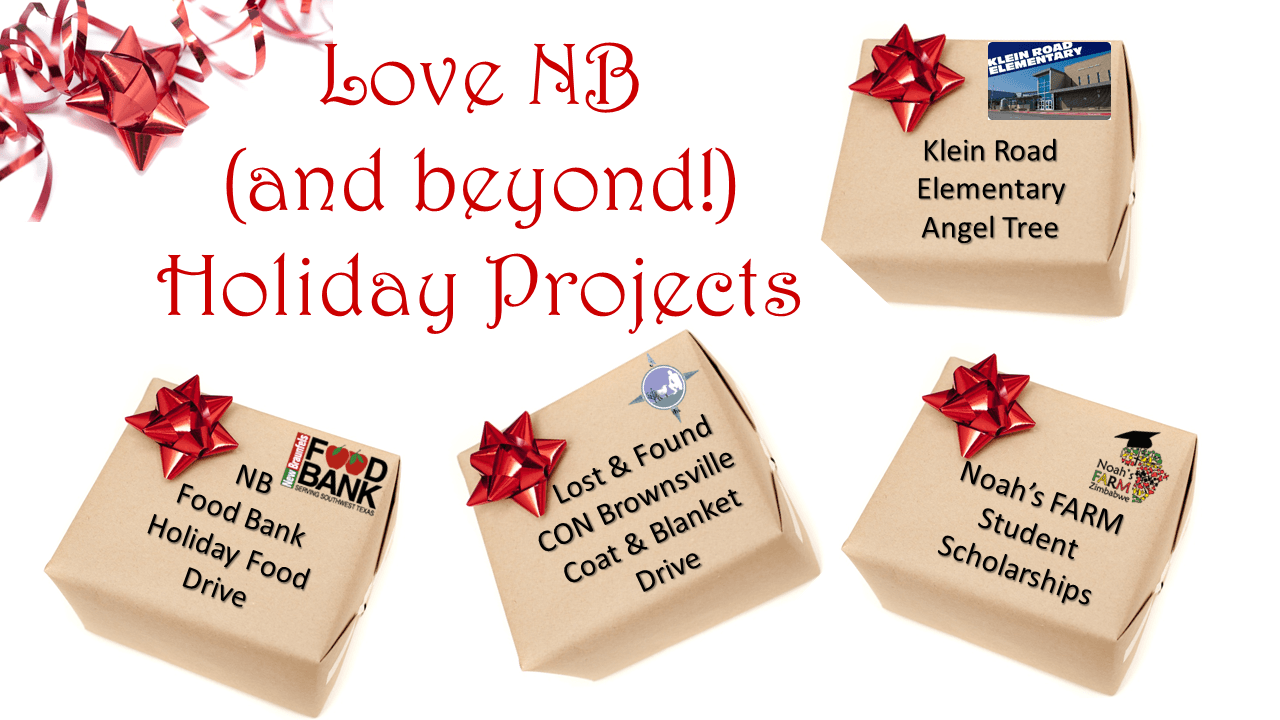 Once again, NB Naz wants to reach out to Jerusalem, Judea, and the uttermost parts of the earth to share God's blessings this holiday season. Check our display to support these four ministries:
Klein Road Elementary - Shop for a needy child through their Angel Tree.
Gifts are due back by December 3.
Lost & Found Church of the Nazarene - Support their border ministry through donating coats, blankets, and winter wear. Drop in donations by December 10.
New Braunfels Food Bank - Help us fill the barrel with much-needed items this holiday season. Pick up a list and drop in donations by December 17.
Noah's FARM Zimbabwe - You can help provide a scholarship for a deserving student. Pick up a pledge card and give through NB Naz or online at www.noahsfarm.org/donate. You can give any time, but gifts before December 31 help us know scholarships are funded.
For more information, contact Lee Ann Linam at [email protected].