Pie/Dessert Auction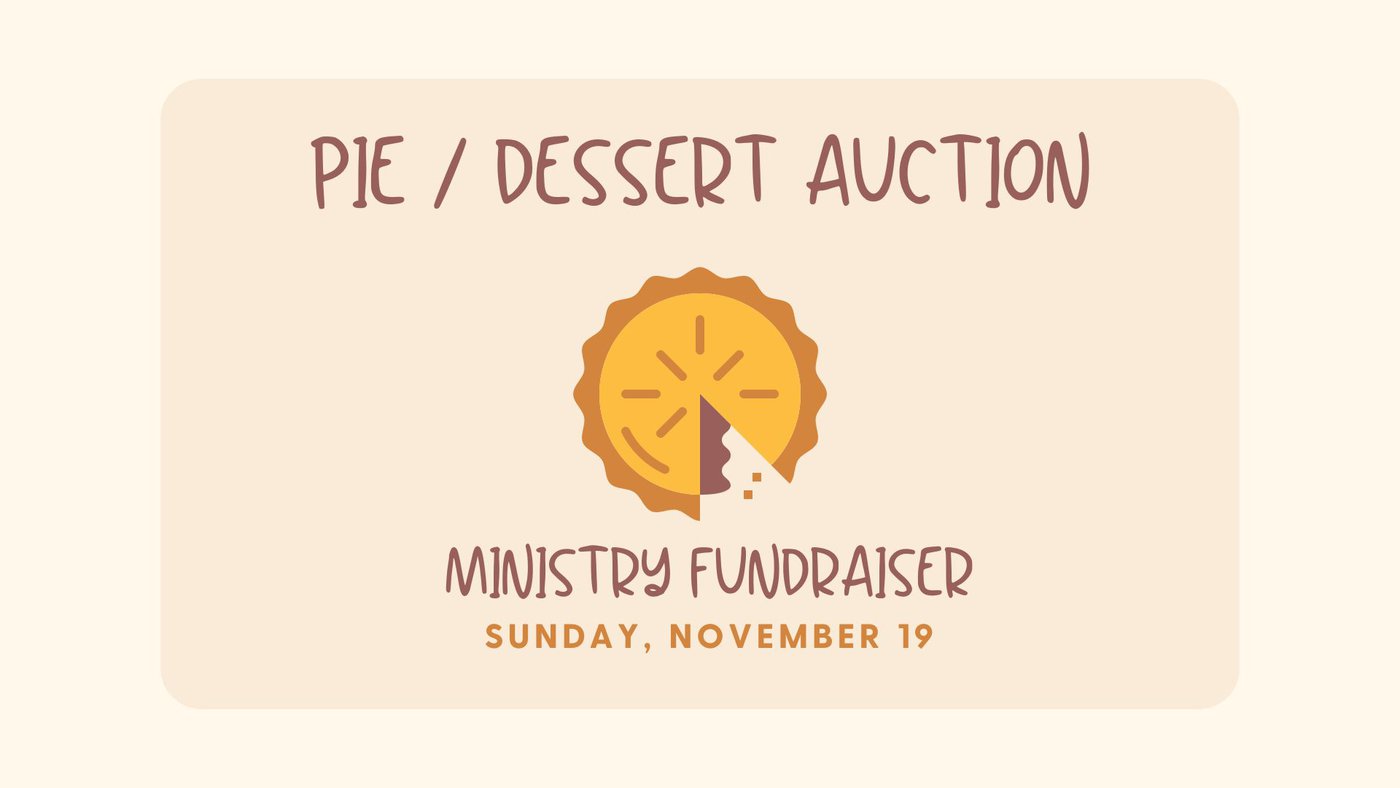 The Children's Ministry is having a pie/dessert fundraiser on Sunday, November 19th following church.
Bring a pie or dessert to the sale or buy one that is for sale. Stay around after church and join the pie/dessert auction!
Kids Ministry at NB NAZARENE
Our Purpose: To help kids and families find Jesus as their Savior and follow Him entirely.
SUNDAYS (currently, the only children's programming we offer is on Sundays)
9:15am-Noon: We offer Nursery Care for ages newborn to 3 years old.
9:30-10:30am: We offer Children's Sunday School/Life Group* for all children,3-year-olds through 5th Grade (currently, together in one room).
10:45am-Noon: We offer Children's Church* to two groups during the Worship Service, according to their age group as follows:
Older Kids' Church (Grades 1 through 5)
Little Kids' Church (Ages 3 through kindergarten)
Each Sunday, children ages 3 and up will begin the worship service with their parents in the Sanctuary. Early in the service, the children will be guided from the Sanctuary to their own age-appropriate Children's Church. The exception is that on the 5th Sunday of a month we have Family Worship and children will remain in the Sanctuary. On those Sundays, we will provide activity bags (with crayons, pencil, coloring pages, puzzles, etc.) to help them.
*You may find out more information on what your children will be learning on Sundays, here: https://orangekidmin.com/orange-kids-curriculum-scope-and-cycle-2021-2022/. The older children utilize 252 Kids and the younger children utilize First Look Preschool.
If you have any questions, please contact the church office at 830-625-0803 or use the form below.
**NOTE** With COVID still being a present reality in our community and world, we wanted you to know some of the steps our children's leaders are taking to provide a safe environment:
We are spacing out the children, as best we can
We are sanitizing surfaces before class
We are encouraging kids to wash their hands
Masks are optional, and please know that we support whatever decision you make that you feel is right for your child
We ask that if your child is exhibiting symptoms, of any kind, please do not send your child to any of our children's activities.
Your First Visit
Here's what to expect when visiting NB NAZARENE for the first time:
First, find the Kids' Check-In Station in our lobby. There we will meet your family and check your child into our system. Your child is not required to participate in Children's programming, but checking in allows them to do so.
Upon checking in for the first time, we will ask for the following personal information (NOTE: We value your privacy and will not share this information with anyone):
Parent/guardian name(s)
Child's name
Child's birth date
Home address
Contact Phone number
Any special instructions (allergies, special needs) for your children
[On subsequent visits, your child's information will already be in our system, and you will follow the procedure for check-in either to Life Groups or Worship Service, depending upon the time]
Mother's Viewing Room
Our Church campus offers childcare during service for infants, but we also have a Mother's Room that is available for mothers with infants. This room is reserved for parents with infants to enjoy the service in a more private and quiet environment.
Got Questions?
If you have any questions concerning our NB NAZARENE Kids experience, or about visiting NBNAZ with children, simply click the button below and get in touch with us!