Join us for Worship at 10:45 each Sunday!
We are meeting in person, as well as online (links are below), and will continue to so until conditions warrant a change [see info below regarding our phased reopening--we are currently in Phase 3]
At NBNAZ we continue in our commitment to a safe and healthy environment for everyone who walks into our church. Therefore, here are some of the current actions we are taking:
• Nursery is open! 10:30-noon [check-in at lobby kiosk]
• Children's Church during the sermon, roughly 11:10-11:55am [children will exit & enter through the back door between Sanctuary and Children's Church]
***Parents, please keep your child home if he/she is sick.
• Church Doors will open Sundays at 10:25am
• Sanctuary Chair Spacing – You will be seated and dismissed by an usher
• Face Masks Are Required for everyone inside the building with the exception of brief removal for communion. Also excepted are those serving on the platform
• Live Online Video Services will continue on YouTube & Facebook Live for our extended church community
• Maintain Social Distancing between you and other non-family members at all times while at church
• Optional Spaces for At-Risk Families - Reserve a room by contacting our church office at [email protected]
• Additional Cleaning & Sanitizing Efforts - We sanitize high-touch surfaces prior to the service, once during the service, and after service has concluded
• We Encourage You to Utilize the Hand Sanitizing Stations (or use your own)
• No Offering Plates Passed – You may give online, use the debit card machine, or you drop your checks or cash into an offering box at the front of the Sanctuary
• Paperless – We will not be passing out bulletins, connect cards or pens. You may access our bulletin, connect card and prayer request forms on our website
• Pre-Packaged Communion Cups – When taking communion, we will have communion cups that are completely pre-packaged and will be placed on the seats in advance of the service. Gluten-free wafers are available.
• Outdoor Fellowship - We will have covered space outside starting at 9:30 to allow those who wish to fellowship before the service. Please maintain social distancing and we still strongly encourage you to wear a mask during this time.• No Coffee/Tea or food service - You may bring your own caffeinated drink of choice to drink while enjoying fellowship outside [Coffee/food service MAY resume in Phase 4]
• Life Groups - Some groups are still meeting online via Zoom Videoconferencing, some are now meeting in person (with restrictions), some are utilizing a combination of in-person with Zoom. Contact your Life Group Leader or the church office for information.
• Youth Group - meeting in person Wednesdays at 7pm, outside. Masks are required if the group moves indoors.
Live Stream
NOTE: We will continue to stream our services so that those who need to stay home are able to watch the service. Find us on YOUTUBE (click HERE for our channel) or FACEBOOK (click HERE for our home page).
If you miss the service live, you may view past sermons on YouTube or Facebook, below or here: nbnaz.church/media
Be sure to join us each Wednesday at noon on FACEBOOK for Pastor Chris' midweek devotional. You do NOT have to create a FaceBook account in order to watch. If you miss it live, you may find it under videos to watch later.
As always, you can leave a prayer, praise or message through the Connect Card (bottom of the page) or at nbnaz.church/pray
Reopening Information (see graphic below)
Our NBNAZ leadership made the decision to move into Phase 3 of our Church Reopening Plan.
Notable changes for this phase:
1. Nursery Care during the worship service hour.
2. Children's Church for Preschool and Elementary-aged kids during the Sermon only, (Kinder-5th Grade kids must wear masks.)
3. Church events; more options for outdoor events (with social distancing, masks strongly encouraged, proper sanitizing, etc.)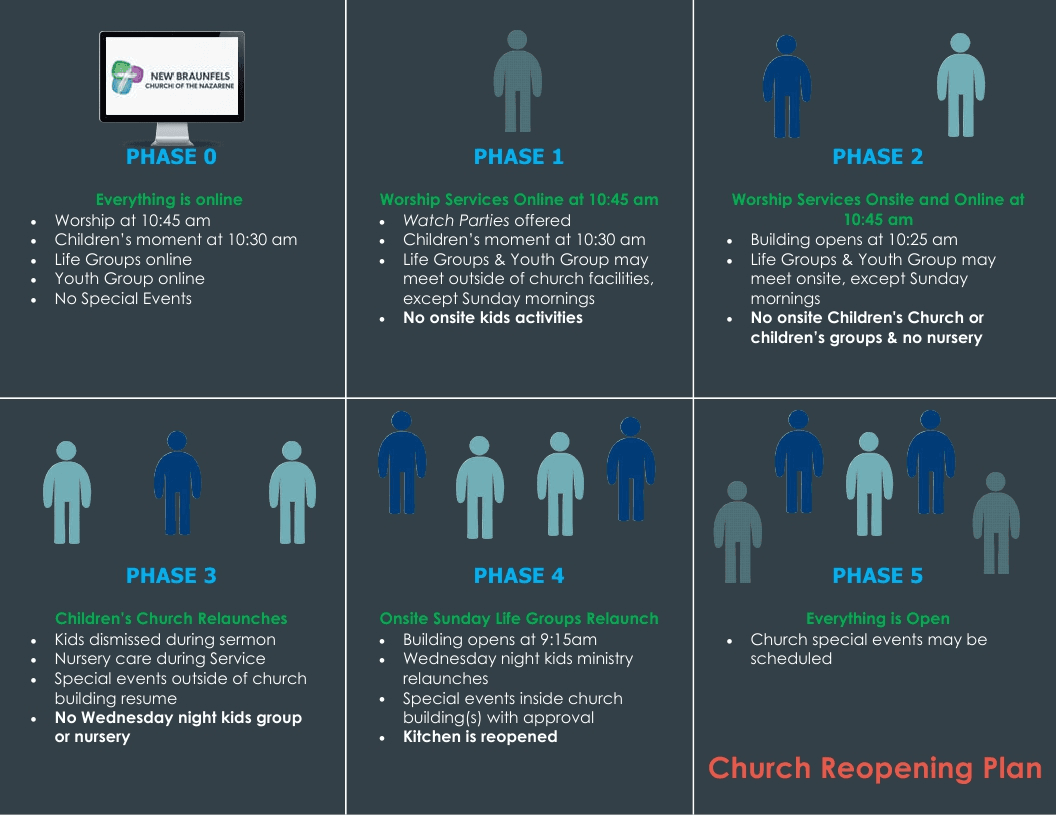 *** All in-person meetings will/may have additional restrictions; face masks, distancing & sanitizing are not mentioned in this plan; and we will continue to take our cues from CDC + health & local officials to inform our decisions on these matters.