Comal County Multi-Agency Resource Center [Click to donate or find out more]
If the COVID-19 crisis has left you feeling mentally, emotionally, spiritually or financially hopeless you are not alone. Your community is here to help. For more information call (830) 606-9512
Nazarene Compassionate Ministries
Few have remained untouched by the COVID-19 pandemic. In places where people live day to day or week to week, the measures necessary for preventing the virus's spread are devastating. A growing number of people are finding themselves in sudden and great need. Those who are hungry, isolated, and sick need your help. NCM is supporting churches around the world as they respond to COVID-19. Click here to Learn More and Give Now.
The South Texas District is preparing for hurricane season and is soliciting prayer, finances, supplies, and manpower in order to help meet the needs following a hurricane strike. The preparedness plan includes the creation of Crisis Care Pallets, a Rapid Response Team, and ensuring a sufficient supply of Crisis Care Kits are ready to go.
We ask that you please take 6 minutes and watch this video from our district which outlines the plan.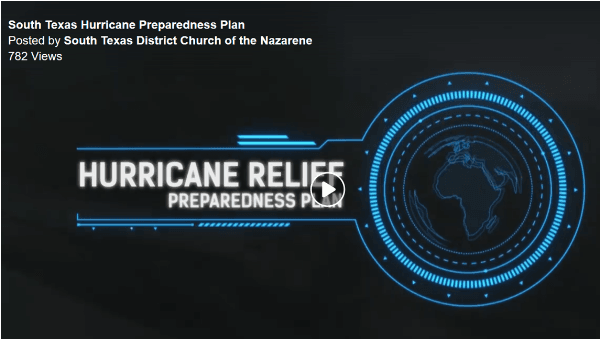 On September 6, San Antonio First Church hosted missionary couple Bill and Theresa Grigory. Watch the video below. Click HERE to learn more.